West Alabama Doubles Down on Kindness
FOR IMMEDIATE RELEASE
Chamber of Commerce of West Alabama and Tuscaloosa Education Foundation Partner with neighborhood bridges to Help Students and Families in Need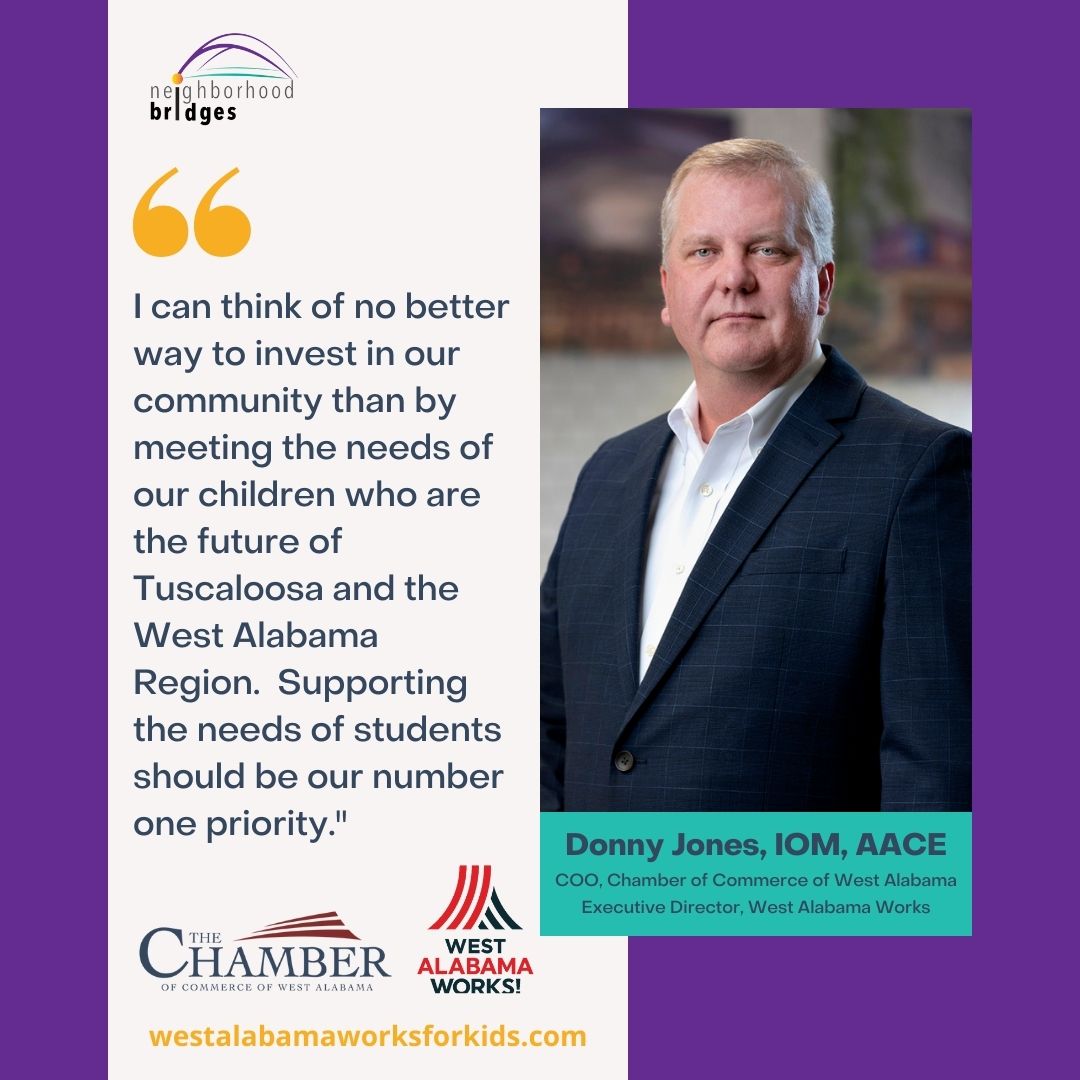 TUSCALOOSA, Ala., and WESTERVILLE, Ohio, October 7, 2021—Thanks to the leadership of the Chamber of Commerce of West Alabama and the Tuscaloosa Education Foundation (TEF), a wide stretch of Western Alabama has doubled down on kindness and the impact driven through neighborhood bridges.
Neighborhood bridges, a 501(c)(3) charity that facilitates direct local giving, engages communities of both the Tuscaloosa City Schools and Tuscaloosa County Schools to fulfill essential needs for students, and their families, experiencing hardships. This kindness is initiated by school district counselors and social workers who post needs for community subscribers to fill. Together and through neighborhood bridges, both Tuscaloosa area school districts have impacted over 15,500 students.
In an unprecedented move, the Chamber of Commerce of West Alabama is partnering with TEF and neighborhood bridges to aggregate efforts in both school communities in support of its Pillars of Education initiative. Businesses, local organizations, and residents can now visit http://www.westalabamaworksforkids.org to survey opportunities to bridge kindness throughout Tuscaloosa.
The Pillars of Education initiative aim is to create formal partnerships within the West Alabama region to promote literacy and character development, elevate educators and provide career pathway opportunities. Its focus on doing what's right for children in the community lays the foundation for a stronger workforce through better education.
"We are excited to partner with the Tuscaloosa Education Foundation and neighborhood bridges to support our schools locally. Our members have invested in local schools through the Adopt-A-School program for years, and this will give our entire community the opportunity to meet needs of classrooms and individual students," said Donny Jones, IOM, AACE, chief operating officer, Chamber of Commerce of West Alabama; executive director, West Alabama Works. "I can think of no better way to invest in our community than by meeting the needs of our children who are the future of Tuscaloosa and the West Alabama region."
"According to Nelson Mandela, 'Education is the most powerful weapon that we can use to change the world.' Tuscaloosa Education Foundation takes pride in being part of a community that comes together to support and affirm public education by making a difference in the lives of children, and effectively, changing the world," said Terri C. Boman, Ph.D., executive director, Tuscaloosa Education Foundation. "We recognize the only way to meet the academic needs of our students is to ensure that their basic needs of food, water, warmth, rest, safety, and security are met. The neighborhood bridges program helps us to accomplish that goal. We are so excited to partner with neighborhood bridges and the Chamber of Commerce of West Alabama in this endeavor."
Neighborhood bridges will continue to work within each school district to fill needs, but through this new partnership, the Chamber and TEF will offer their extensive reach to increase engagement and impact.
"I am touched by the thoughtful and creative way these great organizations have come together to help further our mission of driving impact and removing barriers for students in need," said Rick Bannister, CEO and founder, neighborhood bridges. "This will be a model for other communities, and we are excited by the possibilities. More needs posted, More donations offered. More hope and opportunity provided to the students in both school communities."
Neighborhood bridges in Tuscaloosa City Schools is led by Area Directors Lesley Powell and Kendra Williams, who are both elected members of the Tuscaloosa City Board of Education. For Tuscaloosa County Schools, the neighborhood bridges program is led by Area Director Connie Coleman, a retired teacher from the district. The Tuscaloosa County School System has two additional, invaluable community partners supporting their efforts: Tuscaloosa Parks & Recreation Authority (PARA) and the Tuscaloosa County Commission.
Residents and businesses are invited to subscribe at westalabamaworksforkids.org. An email submission provides subscribers with notifications when new needs are posted. Instructions are sent to subscribers offering to fill needs.
To follow the kindness being bridged throughout Tuscaloosa on social media, open Facebook, Instagram and Twitter, and search "neighborhood bridges Tuscaloosa."
About neighborhood bridges
A 501(c)(3) organization, neighborhood bridges' mission is to bridge communities with schools in providing basic needs, removing barriers, and seeking equity for students so they can engage and succeed in school and life. The organization has driven direct support and care to more than 200,000 students and families since its founding in 2017.
Neighborhood bridges is headquartered in Westerville, Ohio, and operates its "Gateway for Kindness" in 35 communities throughout Ohio and Alabama.
For more information about the organization and sponsorship opportunities, email [email protected] or visit neighborhoodbridges.org.
###
Contacts:
Chamber of Commerce of West Alabama
Donny Jones
205-391-0331
Tuscaloosa Education Foundation
Terri Boman
205-792-0077
neighborhood bridges
Rick Bannister
614-390-1142
Tuscaloosa City Schools
Kendra Williams
205-292-9624
Tuscaloosa County Schools
Connie Coleman
205-799-3293