neighborhood bridges Ardmore receives $2,500 donation from KODA Cares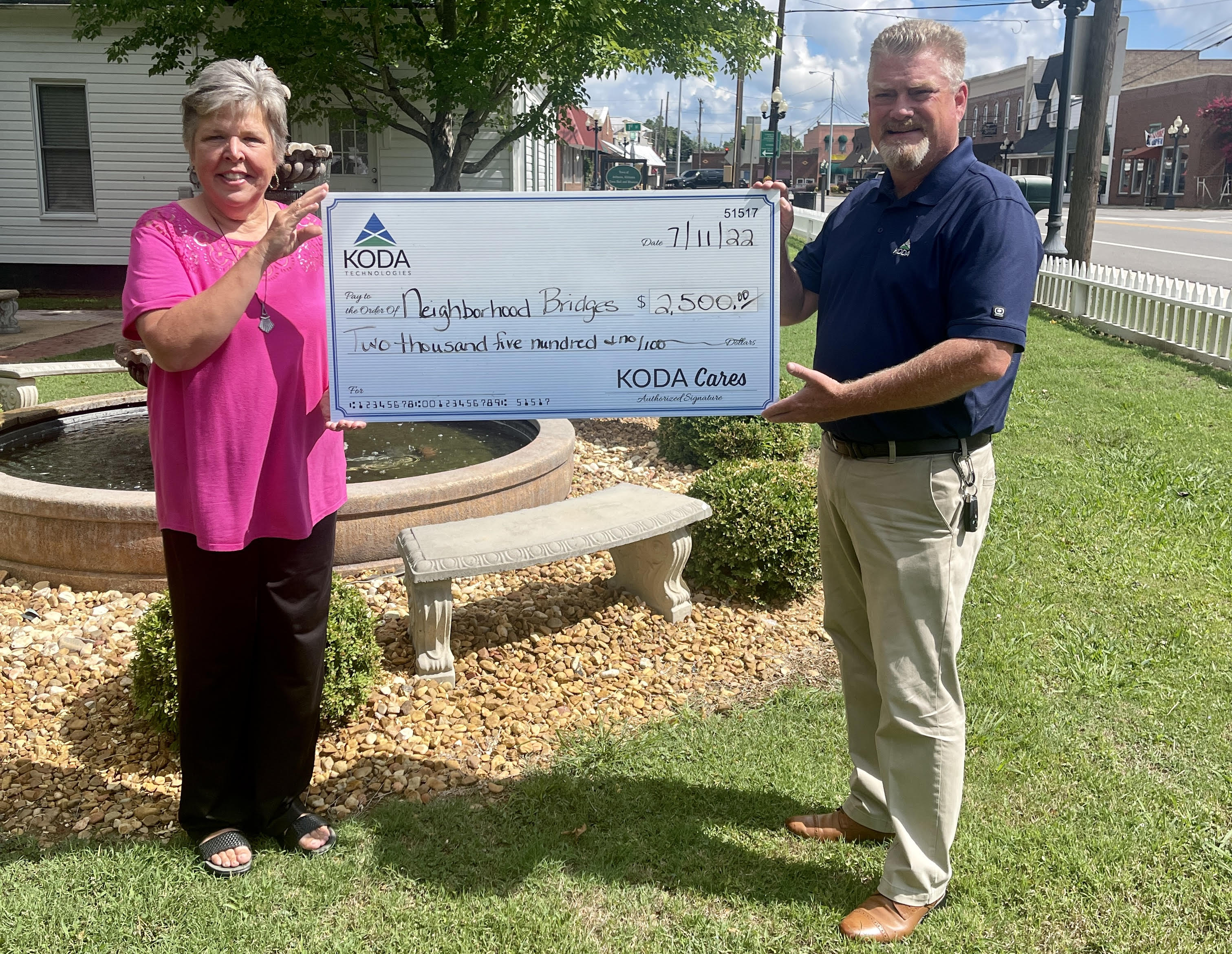 Photo L to R Neighborhood Bridges-Ardmore Director Yolandia Eubanks and KODA Team Member Acquisition Analyst Joe Rush

Neighborhood Bridges-Ardmore Receives $2,500 donation
ARDMORE - KODA Technologies Inc., through their KODA Cares 501(c)3 nonprofit, has chosen Neighborhood Bridges-Ardmore as a recipient of a donation in the amount of $2,500.
Neighborhood Bridges was nominated by KODA Team Member Acquisition Analyst, Joe Rush, who resides in Ardmore.
These funds allow the Neighborhood Bridges-Ardmore team to serve children who attend Johnson Elementary, Cedar Hill Elementary, Ardmore Middle, and Ardmore High Schools and their families.
"Thank you to Joe and KODA Cares for being a wonderful advocate and supporter of Neighborhood Bridges Ardmore," Neighborhood Bridges-Ardmore Director Yolandia Eubanks said. "These funds will cover all operating expenses associated with being a member of the Neighborhood Bridges association which will allow us to serve more children and their families."
Neighborhood Bridges-Ardmore partners with advocates in each of our local schools to identify students and families in need. The technology of neighborhood bridges invites people to anonymously show an act of kindness to a student or family in need. When a need is posted, anyone who has subscribed to the site can see the need and click on "I Can Help," purchase the item and drop it off at one of the three designated drop-off sites in Ardmore: The Rustic Willow, Ardmore Telephone Company, and Berry Animal Hospital.
The mission of neighborhood bridges is...
To bridge communities with schools in providing basic needs, removing barriers, and seeking equity for students so they can engage and succeed in school and life.

People who want to learn more information about the program can visit https://www.neighborhoodbridges.org/community/Ardmore-al
###